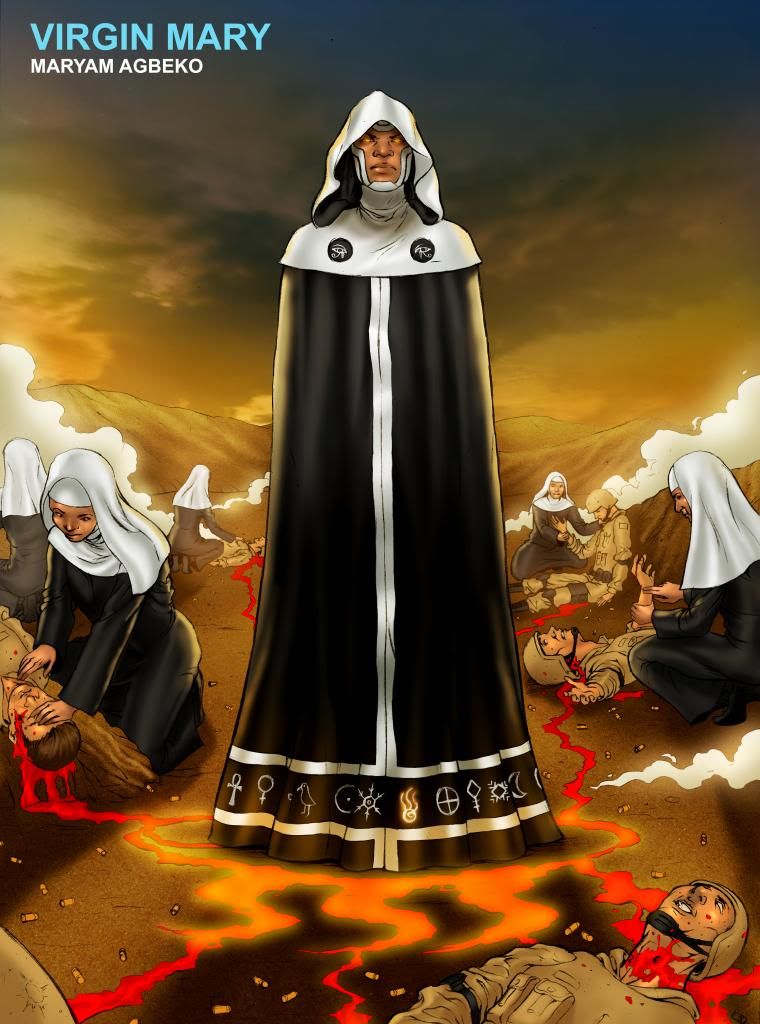 Little is known about
Maryam Agbeko
, the reclusive leader of a secretive convent of Nigerian nuns known as the Marian Order of Purity.
It is believed that she and most of her sisters are survivors of Nigerian sex slavery camps, where girls as young as nine and ten are routinely sold to brothels and sex tourists.
Perhaps due to the trauma of their background, Nuns of the Marian Order are known to take extreme vows of chastity. The elders of the order not only vow to never marry or engage in intercourse, but to never touch or be touched by a man again .
There are unverified reports that Maryam's abhorrence of the male touch goes beyond religious vows to a deep psychological disorder.
It is rumored that her childhood in sex slavery was so traumatic that she developed a rare condition called haptophobia
- a paralyzing fear of being touched by men.
Her nickname, the Virgin Mary, was given to her by one of her pimps, in reference to her horror of even nonsexual physical contact with a male. After her conversion, the name took on religious significance to Mary and her sisters.
The Marian Order of Purity is not officially ordained by Rome, and has indeed come under heavy suspicion after two delegations of priests sent from the Vatican to evaluate the convent disappeared under mysterious circumstances.
Other similarly mysterious events have led to rumors that the Order is less a convent of nuns than a coven of witches…
An acquaintance of Father John from their shadowy former lives, Maryam comes to St. Jerome at his request to offer her mysterious form of aid…